Toni Ventura is a senior telecommunications engineer, specializing in electronics. He is founder and CEO of Datapixel in Spain. In addition, he is a member of the Executive Committee of the European Machine Vision Association (EMVA), as well as several international standards committees, including the OSIS (Optical Sensor Interface Standard) committee of ia.cmm.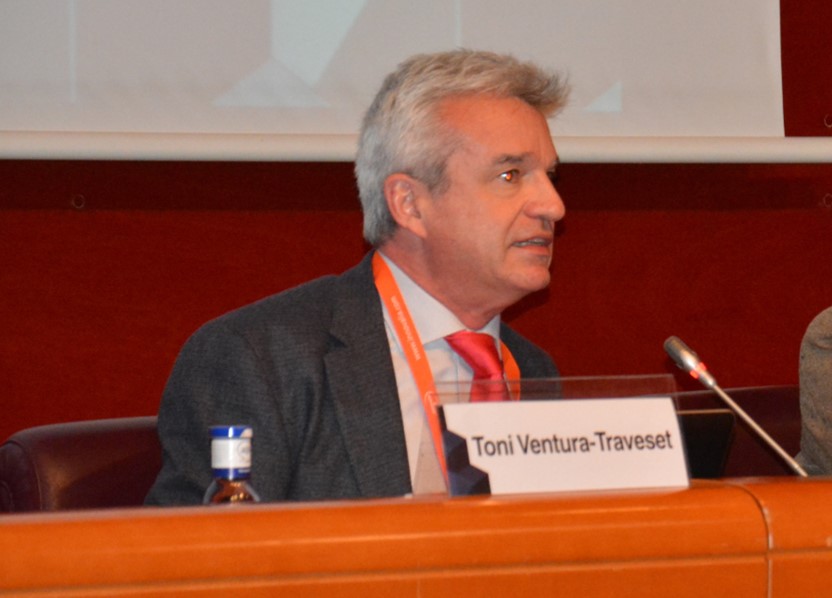 What is Datapixel?
DataPixel is manufacturer of OptiScan non-contact dimensional inspection systems and developer of very high-precision 3D vision technology. In addition, Datapixel is the creator of M3Software, a digital metrology software that is revolutionizing measurement processes.
Datapixel has been designing, manufacturing and selling OptiScan 3D and quality control solutions for automotive and aeronautics components for 18 years. DataPixel optical scanners allow you to capture and control 3D dimensions and shapes of various parts such as metal stamping components that are part of the body, fuselage carbon fiber parts or aircraft wings, machined parts of engines, turbine blades or complex plastic parts .
DataPixel scanners are internationally accepted and enable manufacturing companies to perform dimensional inspections with micrometer accuracies. Datapixel also manufactures optical sensors that allow the measurement of small parts with accuracies of nanometers for the most accurate systems.
Since when datapixel is part of the Innovalia Group? What does it mean for Datapixel to be part of that group?
Datapixel was born within the Innovalia Group and this provides Datapixel with a great technological, internationalization and innovation capacity.
Datapixel undertakes projects of a much greater dimension in technological complexity, through close collaboration with the other companies of the group, taking advantage of synergies between them. Membership in the Innovalia Group allows DataPixel to reach a much higher level of internationalization, sharing international marketing resources with the rest of the companies, taking advantage of the presence in markets in both mature and emerging economies. In addition, the group provides DataPixel with a much higher level of innovation capacity, participating in R & D projects at European level, in cooperation with the Innovalia Association R & D unit.
The combination of these three dimensions supposes a qualitative and quantitative leap for the competitiveness of DataPixel in an increasingly global market.
How important is metrology in industry?
The deployment of metrology resources, methods and processes are key to the industry's achievement of the levels of productivity, quality and efficiency required in today's markets. It can improve what can be measured, and metrology is the discipline that brings together the knowledge and the implementation of this concept. Industrial metrology allows us to obtain accurate information and knowledge about industrial products and processes, so that we can control, improve and optimize them.
You spoke about Metrology 4.0. in Metromeet. Clarify this concept.
The term Metrology 4.0 comes with Industry 4.0. Each industrial revolution has required the development of metrology tools and methods that have made it possible. Industry 1.0 emerged from the hand of empiricism and the scientific vision of reality, extending the use of mechanical instruments of metrology that allowed to obtain objective data of products and processes. Industry 2.0 meant the introduction of more advanced manufacturing processes such as mass production. In order to increase productivity, more sophisticated metering technologies were developed, allowing greater performance of manufacturing processes. Industry 3.0 was "The automation revolution" and the CMM measuring machine concept emerged as an automated element combining sensors, electronics and robotics. Finally, Industry 4.0 offers the jump to the digitization and virtualization of the manufacturing industry, through technologies such as digitization. The combination of OptiScan and M3Software make this possible. The integration of these technologies with other digital systems leads us to talk about the digitization of processes.
Does the consolidation and success of Metromeet confirm the industry's interest in measurement and metrology?
Of course. Metromeet has established itself as a reference conference in metrology at an international level. It has become a meeting point for industry, national metrology certification centers, research centers and universities.
The current industrial metrology is multidisciplinary and each edition Metromeet has managed to bring together a great diversity of fields of innovation involved and highly attractive for the industry.
The transformation of the industry not only requires information provided by metrology, but also the data must be of quality and must provide real value from the business perspective. In this sense, Metromeet contributes not only scientific-technical knowledge, but also an exchange of industrial experiences of practical application that are extremely valuable for the participants.
Now we talk about intelligent metrology, connected metrology and metrology in the cloud. Has traditional metrology changed?
It has changed and will continue to change much more.
We are now at the beginning of a radical change in the way of capturing, analyzing and integrating the information of products and processes of industrial manufacturing. Metrology should be able to offer solutions increasingly integrated in the digital factory.
The transformation is being given thanks to information and communication technologies in all areas of human activity is also crucial for the industry. Metrology products and solutions must also be interconnectable, have a certain capacity for intelligent processing and have the capacity to store and process large volumes of data.
The key element in this equation is the standardization of digital components and exchange formats to ensure that any equipment is capable of interoperating with other equipment and systems of the company. For this reason, Metromeet puts a special emphasis on the diffusion and dissemination of the standards of digital metrology and is an area of ​​clear growth for Metromeet in the future.
What solutions are provided from Datapixel?
DataPixel is a innovative company in the field of digital metrology, high precision optical digitizing, and in the integration of metrology systems in the digital industry.
DataPixel was the first manufacturer in the world to introduce the concept of hybrid metrology, which is now in clear expansion, which consists of combining different contact sensor technologies and non-contact sensors in the same system in order to have the best information in every moment and with the maximum precision and productivity.
DataPixel and the Innovalia Group are the developers and marketers of the M3 Software metrology software, an open platform that integrates the functionalities of optical sensors, contact sensors, big data, Analytics, IoT and digital metrology into a reference product in the digital factory.
M3 is the first product on the market to connect fully integrated metrology systems in CNC machining centers and machine tools.
What news do you think the sector will bring in the coming years?
DataPixel will continue betting on innovation and developing products and solutions for the digital factory, both highly accurate optical digitizing sensors, as well as software and systems for laboratory measurement, CNC machine measurement, production line measurement and digital metrology.
DataPixel is the first metrology manufacturer to 100% integrate the international standard QIF (Quality Information Framework) to exchange metrological data, which will allow greater interoperability with manufacturing control systems in the future.
In the field of the digital factory, DataPixel and Innovalia are introducing new simulation systems, which allow to optimize the processes of measurement by mathematical algorithm before being implanted in the actual manufacture. All these new products and solutions are part of the M3 platform. Platform adopted by different clients at international level and that is assuming for a clear advantage in reducing costs and improving processes.